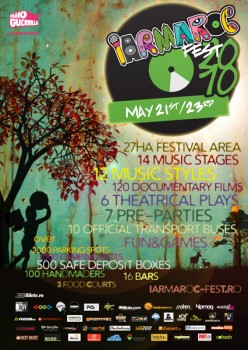 Între 21 şi 23 mai, la 45 km de Bucureşti are loc festivalul Iarmaroc Fest, ediţia 2010.
Iarmaroc Fest uneşte muzica, arta, natura, oamenii feluriţi şi îi introduce în stilul de viaţă şi distracţie contemporan.
Culture Clash Stage:
Vali, Ion, Logan, Cos Mir, Lucas, Flore, Rusu, Minus, Camil, JB, Alien Pimp, Giuser, Inner, Dragos Rusu, Alexandru Jijian, TRG, The Model, Sillyconductor, Surround Around Sound & Khidja.
Folk Stage:
Vasile Seicaru, Adi Bezna, Eugen Avram, Dinu Olarasu, Iulia Gusatu, Emre Imre, Alina Manole, Ada Milea & Fao.
Funk Stage:
Kraak, Smaak, Greg Wilson, TM Juke, Bread, Butter, Syncronize, Gemini Bros, Grand, Nemo, Emap, Rapala, Ufe, Zicu, Marc Hype, JM Dunloop, Leizaboy, Dubase, Manki'N'Stieb & Diesler.
Hip-Hop Stage:
Cedry2k, Dj Sauce, Raku, Faibo X, Grigo, Turntable Science, Vlad Dobrescu, Dj Paul, Grupul de Rezistenta, Limun & Dragonu'.
Drum'n'Bass Stage:
Psycho Freud, Dropdread, Terrarin, Nocs, Flo, Filth-er, Terry T & Ludmila.
Chillout Stage – concert de chitară, flaut, saxofon şi instrumente experimentale.
Boom Boom Stage:
Dinky, Dyed Soundorom, Emi, Posh, Suciu, Lemos, Kron, Praslea, Xandru, Ovidiu Andrei, Mauss, Matthew Styles, Rhadoo & El Cezere.
Reggae Stage:
Tippa Irie, Chesarion, El Negro, Jah Militant, Rayzah, Charlie Dundeen, Skarlatake, Kaya Crew, East Root, President Tuk, Kogaion, Jam, Zuza Boys & Drum Up Live Percution.
Techno Stage:
Jeff23, Jah Good, Spicy, Rozzman D, Bacid + Nos, Rael + Dj Treize, LC4, Zyrox + Acid Up Dub & Dr. Maxvillie.
House Stage:
JT Dolnaldson, Chemars, Alex Linte, Bela, TBF, AWD House, Tic Tac, Bon Bon, Boola, Alexandra, Miss I, Angel, Negru & Mircea Matei.
Selectro Stage:
Elite Force, Drumattic Twins, Marika, Mesmer, NotsocommonDJ, Unu', Tone, Bully, D-Laid, Sinkronize, Line of Sight & Junkyard.
Live Stage:
Dub Pistols, Noze, Electro Guzzi, Wareika, Belleruche, Groove Orchestra, byron, Guilty Lemons, The Others, Sunday People, Du-te Vino, Blazzaj, Luna Amara, Tripcycle, Brum Conspiracy, Kal, Lemon & L'Orchestre de Roche.
Goa Stage:
Banco de Gaia, Sectre Vibes, Styx, Barbalekku, Djane Roua, Lygos, DJ Chaikovsky, Pheno Type, Poet, Inyourpahze, The Matra Flow, Liquid Ross, Whicked Hayo, Ldb System & Z Cat.
În premieră la Iarmaroc Fest, va avea loc un festival de film vechi unde vei putea urmări proiecţiile unor documentare româneşti realizate între anii 1920-1940.
You'll NEVER Walk Alone!...

victor_uzum

Calling Grace




Number of posts

: 913


Age

: 39


Location

: Bucharest


Registration date :

2008-12-08




---
Permissions in this forum:
You
cannot
reply to topics in this forum